10 Travel-Sized Essentials to Upgrade Your Self-Care in the Air
Are you looking for a foolproof way to achieve a rested look and radiant glow after deplaning from a long flight? It's called business class, and if you are fortunate enough to take it every time you fly, then you might not need too many skincare tips: you can fully recline, cleanse properly, unfold a sheet mask, and actually sleep. 
If you're joining the rest of us mortals in coach, however, without the luxury of extra breathing room, you might not be able to double cleanse or layer your favorite serums next time you fly. But don't let your middle seat in Row 48 — with a wobbly tray and armrest hoggers on either side of you — be an excuse to neglect proper skincare habits. The plane's dry air demands that you work to keep your skin hydrated throughout the flight.
The most comfortable humidity for your skin is around 50 percent. In airplane cabins, it can be anywhere from 5 to 20 percent. "Moisture travels from higher humidity to lower humidity," explains Dr. Lily Talakoub of McLean Dermatology and Skincare Center®, meaning the air in planes literally sucks water out of your skin. She recommends you seek out formulas infused with hyaluronic acid (which holds 1,000 times its weight in water) to ensure your complexion isn't parched. 
Nervous fliers in particular should pay special attention to their skin during air travel. "Any anxiety increases the stress hormone cortisol, which increases [your chances of] breakouts, redness, and inflammation of the skin," explains Dr. Talakoub. Combine that and the dry air with the fact that economy elbow room and TSA regulations are both tight, and you have a possible skin disaster.
To help you avoid a ruddy-looking complexion or unwanted pimple when you touch down, we've rounded up some exceptional (and portable!) formulas for your next self-care session in the air. Keep reading — we've listed the skin saviors in your new in-flight beauty kit in order of application to make the process even easier.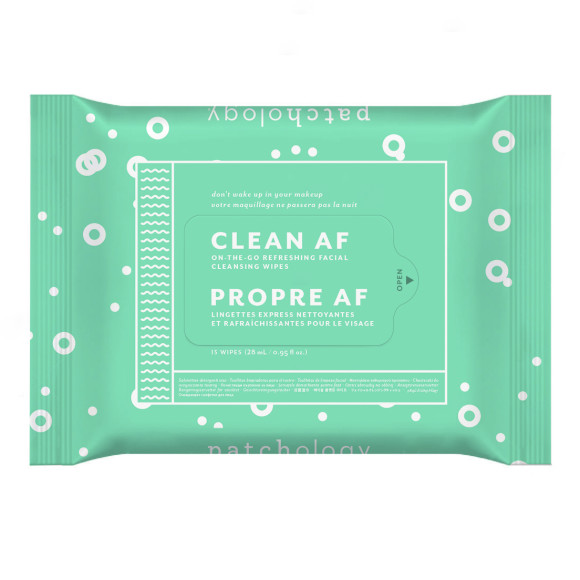 Patchology® Clean AF™ Facial Cleansing Wipes
Achieving a properly-cleansed complexion mid-air is anything but easy (and if you're someone who attempts to wash their face in that tiny bathroom, we salute you). That's why we travel with Patchology Clean AF Facial Cleansing Wipes ($5 for 15 wipes). The sturdy cotton sheets are saturated in cleansing agents and skin-nourishing ingredients like vitamin B5, biotin, and folic acid. A single towelette will remove makeup (for those who insist on wearing it in-flight), dirt, sweat, or excess oil, and will leave your complexion hydrated and ready for the next step in your regimen.